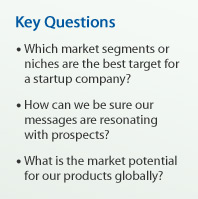 Market validation determines the roadmap that gets you to the right market faster.
There are three distinct components to market validation, each with its own objectives:
Market Research – to identify market needs and define product requirements, to understand purchasing processes and behaviors, and to determine competitive presence. Market Builders undertakes market research projects ranging from short-term, small-scale projects with sample sizes as small as 25 companies, to large-scale projects with hundreds of companies spanning multiple verticals, industries and geographies.
Validation & Testing – to test messaging and positioning, to measure campaign effectiveness and QA marketing processes, and to assess company and product perceptions. Market Builders performs validation projects to help companies serve their target segments more effectively and efficiently.
Market Analysis – to identify top-priority market segments, to identify market challenges and opportunities, and to formulate go-to-market strategies. In our approach, the key is taking relevant market intelligence and turning that into actionable steps to achieve corporate objectives.
All of our research and validation surveys are developed by the partners and senior associates. We then test and refine the survey and methodology to ensure high-quality, actionable intelligence and analysis. We specialize in helping companies:
Launch new products and services with faster time to market
Identify and prioritize market segments to maximize revenues, margins and market share
Extend their geographic reach with our multi-lingual team of market specialists
Better understand current customers, lost customers, and potential customers by uncovering and tracking the factors that affect awareness, perception, evaluation, purchase, satisfaction, loyalty, and retention
"When we decided to begin offering Software as a service, we turned to Market Builders to help us determine our offering, our positioning, and our roadmap. Their work saved us money and time to market."
Rory Byrne
Director of Business Development, Hyperion Solutions Corporation
A typical engagement spans three to six weeks. Unlike pure market research companies, Market Builders focuses on delivering strategic results, not just numbers. We deliver findings that are on time, on budget, and on point.
Faster time to market.