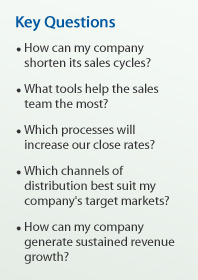 Optimizing marketing and sales processes accelerates your revenue generation.
Marketing and sales are not events—they are ongoing processes that need to align for optimal results. Many companies, particularly start ups with limited resources, try to short-cut these processes by going straight to lead qualification and an attempted close. Unfortunately, that's not how most customers buy.
Sales and marketing teams are most successful when they work efficiently together, leveraging industry best-practices to achieve common objectives. In too many organizations, however, the chasm between marketing and sales undermines corporate effectiveness. Market Builders bridges that functional gap.
While specific best practices vary from company to company and market to market, the right processes entail the following elements:
Marketing Processes
Validation to align your products and services with market needs
Awareness programs to establish your brand and education programs to communicate what your products and services do and why they matter
Multiple touch points to convey the value proposition with tailored messages to specific markets and types of decision makers
Ongoing marketing programs and communications for identified prospects to nurture the pipeline
Tracking and analysis to ensure marketing effectiveness
Sales Processes
Target account programs to focus sales activity
Sales handoff procedures from marketing to telesales, and from telesales to field sales
Sales presentations to communicate the value proposition and solicit prospect feedback
Well-defined methods and target timeframes for product evaluation, testing, purchase and implementation
Ongoing customer satisfaction monitoring and management
"I chose Market Builders because of the team's hands-on experience. They helped us refine and simplify a complex value proposition in an emerging market. The clarity they brought improved our messaging, our campaigns, and our sales effectiveness."
Glenn Cameron
Former Vice President of Sales, Azaleos Corporation
Effective processes are your ultimate competitive advantage because they are difficult and time-consuming to define and implement. Market Builders works with companies to establish the processes that best fit the needs of your business and your markets, maximizing your marketing ROI and sales effectiveness.
A better pipeline, shorter sales cycles, and higher close rates.