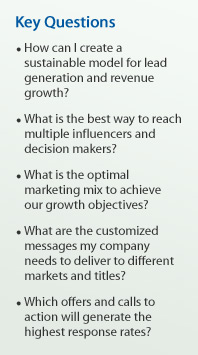 Marketing campaigns to small, targeted audiences generate the fastest, most cost-effective sales results in high tech markets.
Market Builders helps companies develop, plan and execute marketing campaigns to build market awareness, educate prospects, differentiate from the competition, and generate sales opportunities. We use direct marketing techniques—primarily telemarketing and email communications—to identify decision makers and influencers, deliver your value proposition, and understand prospect needs and purchasing plans.
Unlike telemarketing companies, we conduct highly targeted campaigns with multiple touch points that satisfy both marketing and sales objectives. We work closely with marketing and sales teams to define campaign objectives, target audiences, key selling propositions, and processes for ongoing marketing and sales development.
Our services and deliverables include:
Messaging and script development tailored to specific market segments and titles
Campaign execution using multiple touch points
Marketing and sales process refinement to maximize market penetration and minimize sales cycles
Offers and calls to action to optimize prospect response rates
Validation to test market receptivity and campaign effectiveness, including recommendations for ongoing market and account penetration
"Market Builders helped us launch our enterprise product with a series of campaigns that generated highly-qualified opportunities for our channel partners. They helped us gain the critical sales traction we needed."
Rafael Santini
Vice President of Sales, XenSource
All of our campaigns are developed and tested by our partners and senior associates. Working with both inside sales teams and account executives, we execute campaigns using our own team of marketing and sales professionals, all of whom are skilled at delivering high tech marketing messages, engaging prospects in meaningful dialogs, and qualifying account opportunities for sales team follow up.
More effective market penetration by capturing the early wins and nurturing the ongoing funnel opportunities.